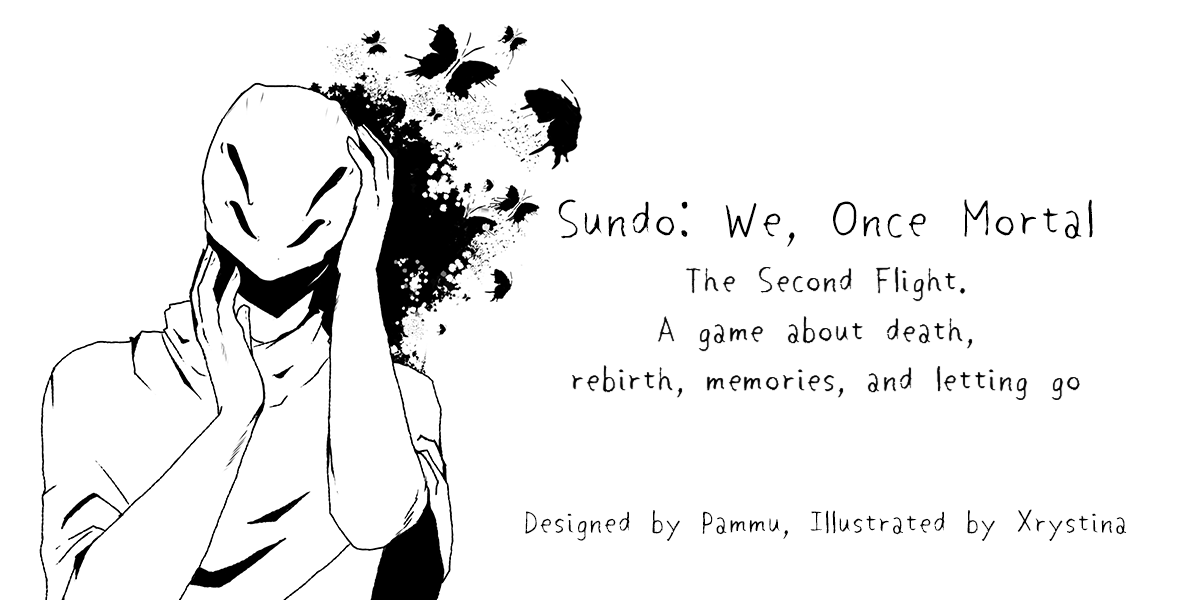 Sundo - The 2nd Flight: We, Once Mortal (BETA)
Full Beta Playtest now 10 USD + Community Copies
---
After some consideration, I have decided that the free nature of Sundo's beta playtest will be a limited run. Starting today, the game is now a paid affair. Pressing life concerns and the need to save for my planned extended stay in Canada has me needing to charge for more of my work. I would also like to be able to compensate Sundo's artist Xrystina well, as 30% of every sale goes to her.
I would continue to appreciate playtests and feedback! The price for this game will go up to 20-25 USD after the full version is released, with a new and improved layout, a text only version, a web version, and a print-ready version.
That said, I am following the lead of designers I deeply respect, and providing no-questions-asked, opt-in community copies for every purchase. Also: the worksheets will remain free so that folx can have a sneak peak of how the game works.
Once again, Patreons received the open beta - the full game document with all of its art, and the text-only version of the game - on early access. They will continue receiving updates on this project and more ahead of time, beyond any extras that are due to them according to the pledges they have given to me. If you want this game and others, consider becoming one of my patrons.
While this game was designed by me, all of the art is exclusively attributed to Xrystina Marcos. Follow her on Twitteror FB, and DM her on Twitter if you're hoping to commission her for her wonderful work.
Get Sundo - The 2nd Flight: We, Once Mortal (BETA)