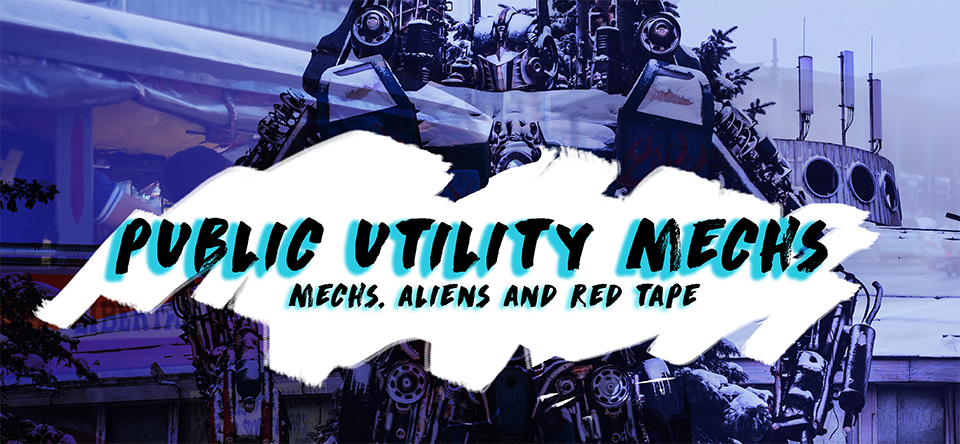 Public Utility Mechs
Unsurprisingly, the Philippine government was unprepared when aliens invaded the Earth.
Sure, there was a lot of talk of #PinoyPride, and commendations on our 'resilience'. Despite the blackouts of the Hard Years, Facebook posts still managed to pop up with pictures and live videos showing every Juans and Juanas wading through sewage, human waste and smoldering ruins, grinning in the face of certain Death. The President boomed on and on across radio and digital airwaves, praising the Filipino spirit to the high heavens - even as he, his Cabinet, and the Elite of the country built their walls higher, constructed their own defenders, quietly pocketed the relief goods and pledges that poured in from the better prepared and richer foreign powers, and generally left the masses to fend for themselves.


They were right about one thing, though.


Filipinos ARE f*cking resilient.


The Public Utility Mecha Program (PUM Program) was a nationwide government project that was established during the Hard Years. Its goal was to enable the populace to fend for themselves by subsidizing the costs of building transformable robotic battle frames. The only requirement to join the program was that the potential pilot was a driver registered with the Land Transportation Office. After completing a crash course in piloting, pilots were handed a ?!?!/Freedom Drive/Bucore, given some basic parts and a bit of cash, a map to government-run scrapyards, and sent forth with God's blessing.
This game is system-light, modular world and story building game that is all about playing the Drivers of transformable public transportation vehicles in a talyerpunk - more junkpunk, definitely Pinoy - version of the Philippines in the wake of invading alien forces who wish to subjugate mankind with "love". We decided to go halo-halo with our systems, mixing bits of Tunnel Goons, Macchiato Monsters, the Black Hack First Edition, PtbA, and Lancer!
Submitted to #HilagyoJam 2019.
Purchase
In order to download this game you must purchase it at or above the minimum price of $5 USD. You will get access to the following files:
Public_Utility_Mechs.pdf
1 MB
Exclusive content
Support this game at or above a special price point to receive something exclusive.
Community Copies
Each copy that you buy of Public Utility Mechs lets someone else grab a copy of this game for free. If your budget doesn't allow you to get this game for yourself, please claim one of these free copies for the community.