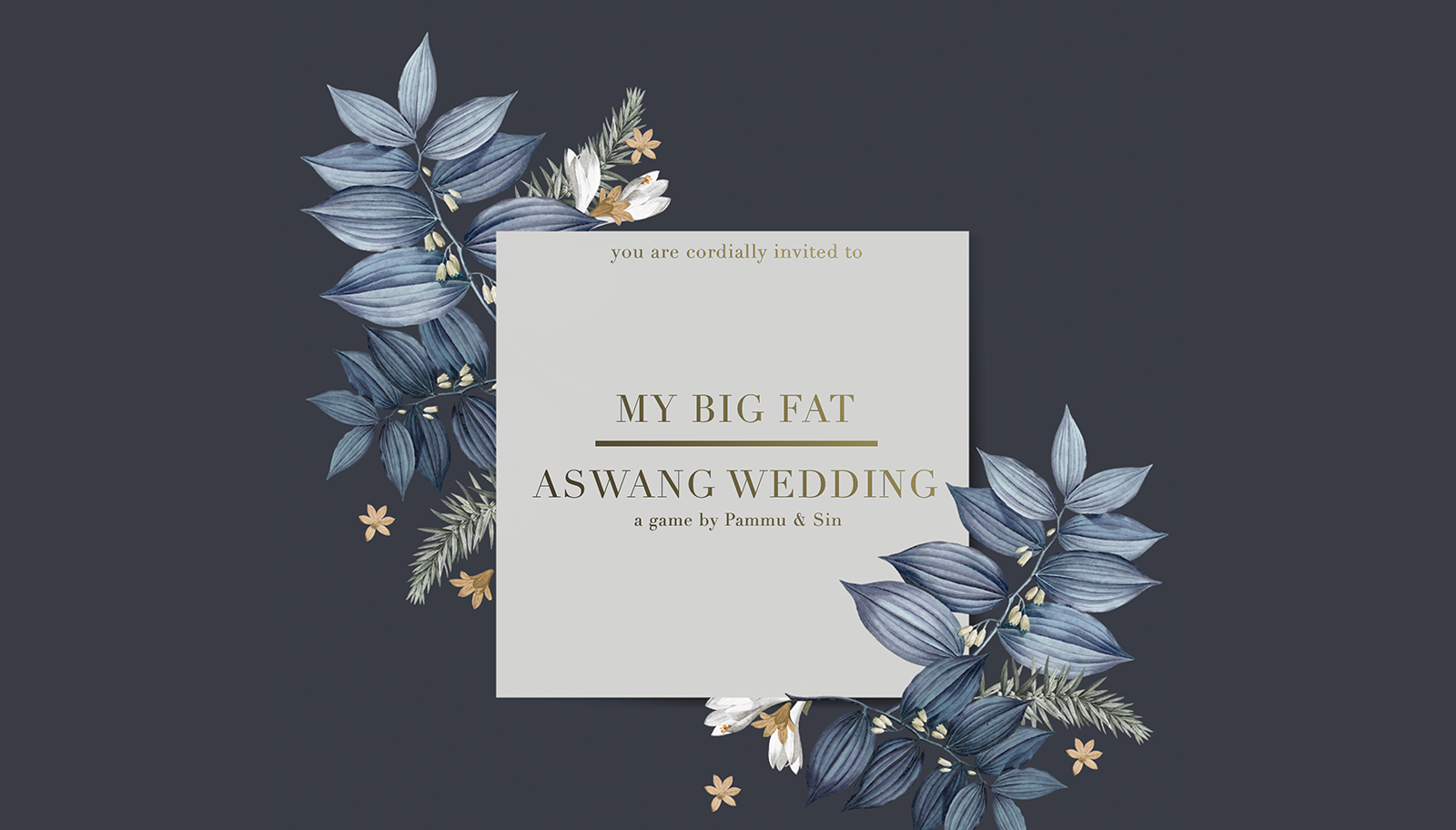 My Big Fat Aswang Wedding
Weddings in the Philippines are never just marriages between two individuals who love each other very much. They are marriages between entire families. MY BIG FAT ASWANG WEDDING is a party game that is all about exploring the awkward, the crazy, the highs and the lows, the joys and the sorrows of the social contract that is marriage and how it is in our country - only, players get to play aswangs, and indulge in some loving exaggeration.
MY BIG FAT ASWANG WEDDING needs at least 12 participants, plus one Facilitator. Beyond that, make sure to have:
A pair of six-sided dice, and something that can serve as tokens for counting Outtakes.
A lot of time and - if you're turning this into a LARP - a lot of open space.
Things to write with, and things to write on. For reference!
A recorder, if you wish to record the crazy that will ensure.
A playlist full of songs that you'd play during a wedding celebration, if you think it'll help set the tone!
Lots of food, lots of drinks. Your aswang will be partaking of a feast. Might as well have one of your own as players.
Get ready to roleplay out the best supernatural wedding of the century, with telenovena-esque drama to dish out in spades. This game aims to be light, zany and joyous. Keep the drama IN the drama, and don't bring it to the table.
NO REAL KNOWLEDGE OF FILIPINO FOLKLORE NEEDED. We've a bit of a reference going in the document, with links. We love sharing our culture and customs.
Submitted for #HilagyoJam! If you'd like a copy of this game but have difficulty purchasing it due to your life circumstances, DM me or Sin. We'd be happy to trade this game for one of yours, or we'd be perfectly fine with you getting a copy in exchange for reviewing and drumming up some hype for MY BIG FAT ASWANG WEDDING on Twitter!
Purchase
In order to download this game you must purchase it at or above the minimum price of $5 USD. You will get access to the following files:
My Big Fat Aswang Wedding v1.pdf
912 kB